iMac G4 (USB 2.0 / 2003.09) 167Mhz Bus Model Overclocking
Here is a short overclocking manual for the 166Mhz busclock iMac G4 models:
* * * W A R N I N G * * *
If you don´t have soldierd on any mainboard you should not do the following modification.
Apple warranty is lost if you do overclocking.
By reading this manual you accept to do the modification on your own risk,
Ethernetworks will not pay for any damaged mainboard.
STEP 0:
Touch the central heating, a gas line or any metal contact to set your body to ground. Wear only cotton cloth and anti static shoes (Birkenstock). Never touch any chip pins directly.
STEP 1:
unscrew the iMac top cover.
STEP 2:
Remove all connectors from the mainboard. The video connectors plastic cab is glued, remove it with a long lever.
STEP 3:
Remove the PowerPC 7445 heat pipe. It´s only jamed by the bracket.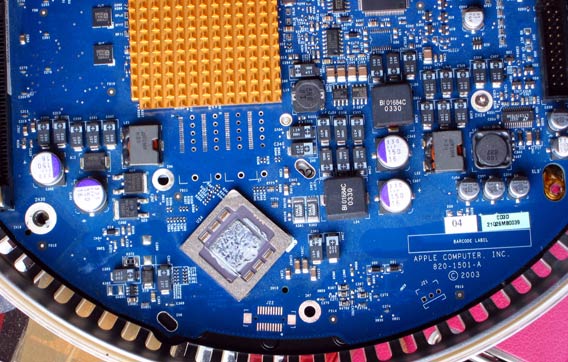 STEP 4:
locate the Motorola PowerPC 7445 PLL settings resistors on the mainboard near the processor.
They are in the blue frame.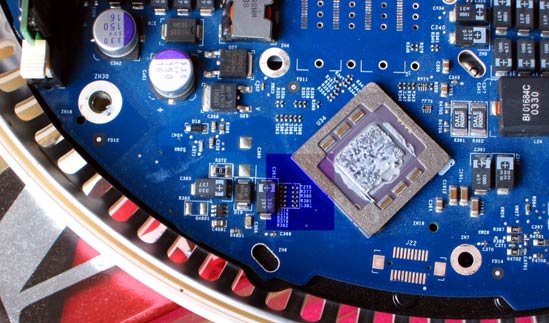 Here is a closer view: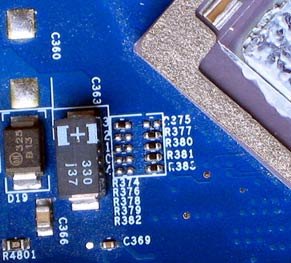 The resistors 374 - 383 clock the PPC 7445.
The picture shows the resistor positions for 1250 Mhz (7.5 x 166Mhz)
Here you can find the Processors user manual for all the settings (chapter 1.9.1 PLL configuration)
PLL
Resistors set
Multiplier
Bus Clock
Speed
10010
5.5
166 Mhz
923 Mhz (iMac 15" default)
11010
R374
R377
R378
R379
R383
6x
166 Mhz
1000 Mhz (iMac 15" default)
01010
6.5x
166 Mhz
1083 Mhz
00100
7x
166 Mhz
1166 Mhz
00010
like the photo
R374
R377
R380
R381
R383
7.5x
166 Mhz
1250 Mhz (iMac 17" default)
11000
R375
R377
R378
R379
R383
8x
166 Mhz
1333 Mhz
01100
8.5x
166 Mhz
1400Mhz
01111
9x
166 Mhz
1500Mhz
STEP 5: Solder the resistors the the position according to your speed wishes.
We tested 2 Machines.
iMac G4 1000 15":
clocked to 1333 Mhz it works but freeze after 40 Minutes
clocked to 1250 Mhz it works fine.
clocked to 1000 Mhz it works fine.
iMac G4 1250 17":
clocked to 1333 Mhz it works but crashes after 10 Minutes
clocked to 1250 Mhz it works fine.
clocked to 1000 Mhz it works fine.
STEP 6 assembling
Do all in the reverse order. Take care that the heat pipe is mounted correctly ! Without heat pipe the CPU will life only for about 8 seconds. Also care about the cables, dont wound any of them.
That´s it so far, if you have some infos about the 133Mhz iMac overclocking or tips and hints feel free to send us e-mail. Also mail us what settings are working with your Machine.
here you can find full photos of the Mainboard (800kB each): top back
This page helped you ? So, why dont you donate me via PayPal
Regards and lots of fun
Your Ethernetworks Germany Team
More Overclockin Links: